Emergency Relief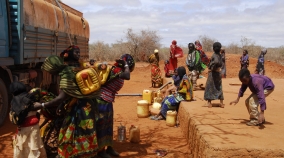 Drought
The Situation
In 2016, several regions of Ethiopia were facing the worst prolonged drought in 30 years. In Afar, this was particularly acute with the loss of hundreds of thousands of animals on which pastoralist communities depend for their livelihood.

Our partner on the ground, Afar Pastoralist Development Association (APDA), has been working closely with local communities for the past 28 years. APDA sent trucks carrying 14,000 litres of water over distances of up to 180kms to reach the most remote and affected districts in Afar. In places where malnutrition had reached 24% of households, 50kg bags of lentils and two goats were distributed to each family. During the rehabilitation phase, 275 of the most destitute families who had lost their entire herd, and way of life were provided a chance to start over with 10 breeding goats each.
In August 2016, the long-awaited seasonal Belg rains finally came. With the heavy rainfalls, however, waterborne diseases began to affect communities that had already been severely weakened by the drought. Acute watery diarrhea (AWD) set in, and by the month of November this reached an epidemic scale affecting dozens of communities in Afar region. In order to control and halt the epidemic, APDA deployed a team of 60 community health workers to all affected areas to screen for illnesses, provide immediate treatment, distribute soap and purification tablets, and inform communities about how to cope with the outbreak.
Our Impact
Ethiopiaid launched an emergency appeal to all our donors and, thanks to an amazingly generous response, was able to respond swiftly and save many lives in Afar, one of the most affected regions. As a result approx. 8,000 lives were saved in the region.
Critical water and food supplies were distributed to approx. 200,000 people

A goat restocking program (10 breeding goats distributed to each family who had lost all their animals) swiftly restored the autonomy of 275 families - over 3,000 people - who had become entirely dependent on international or government aid.

1,560 people were treated for Acute Watery Diarrhoea (AWD)

Approx. 5,000 lives were saved over the course of the AWD intervention
COVID- 19

The Situation
Our Partner- the Association of Women's Sanctuary and Development (AWSAD), has seen a surge of women and girls who desperately need access to their support services; shelter, psychological counselling, legal aid and other services. The problem is that they are not equipped for COVID-19 and are unable to provide a quarantine facility to ensure everyone's safety.

Our Impact
The quarantine shelter will be running from now until June 2022 if they are able to get enough funding. This space will be able to house 30-50 women at a time during their quarantine before they are moved to the main shelter in Addis Ababa.
Donations will help fund the following for the next eight months:
Quarantine safe house rent
Meals
Health Care Service
Transport services
Personal items
Childcare (food, milk, diapers, etc.)
Safe House Utilities
Safe House equipment maintenance
Office supplies and Stationery
Documentation
Support for women headed family members
Provide food items for 300 women headed households
Personnel cost for running the day today service of safe house
Counselor
Nurses
Safe house mothers (2)
Security guards (2)
Our Impact